Snowy our CTO loves a good walk! Lucky for him Auckland is full of great places where he can get his paws dirty. We know the by-laws can be a bit confusing but we've done the hard yards have a great short list of crowd pleasers. Here's a count down of Snowy's top 10 off-lead dog walks in Auckland!
10. Madills Farm
Kicking off the list in at No. 10 is Madills Farm. It's a super large off leash area with loads of flat space so your dog can have a massive run around. Given the space and the central location in Kohimarama we just had to include it. There's even a playground if you have a little hooman but your dog needs to stay at least 10m clear.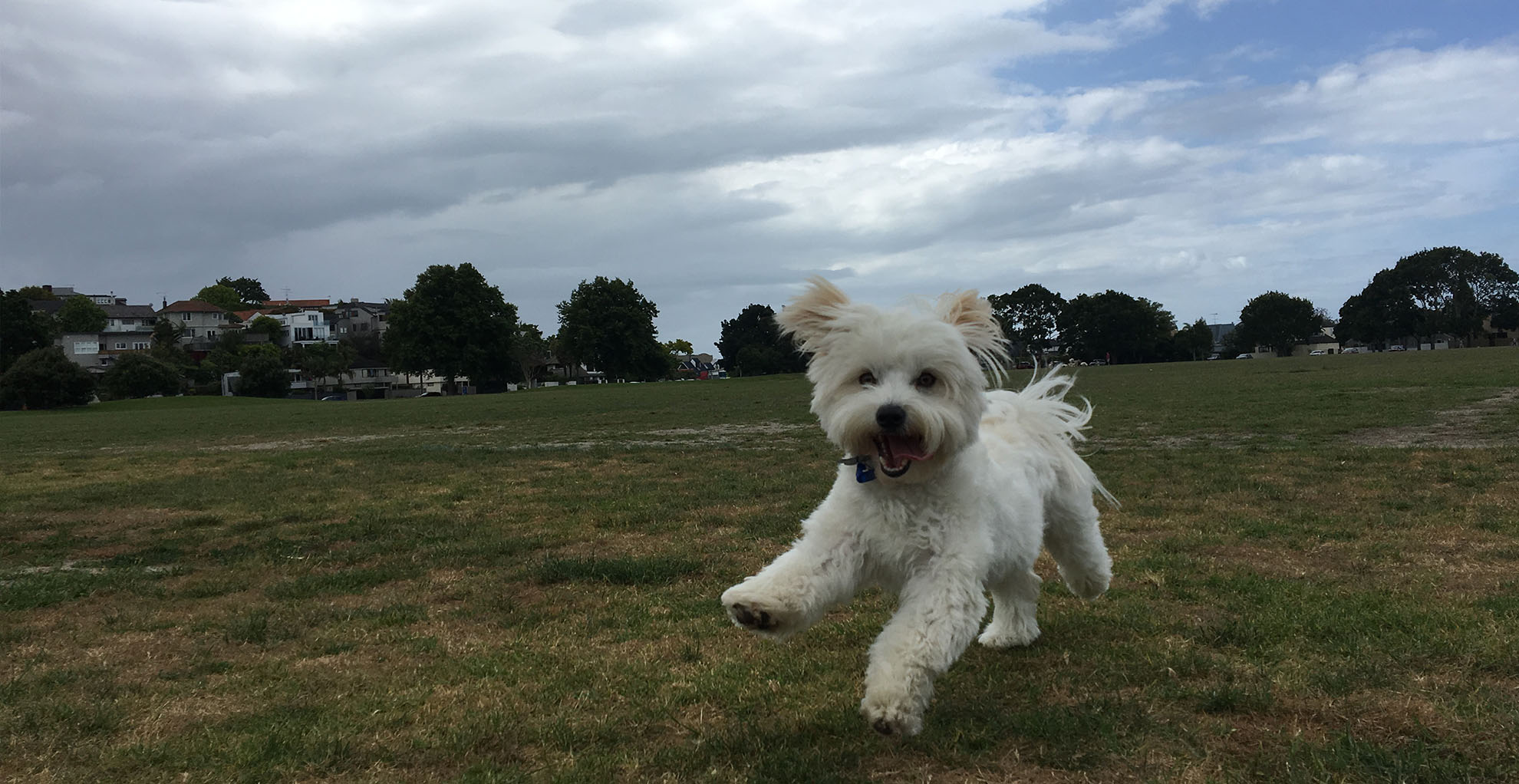 Be sure to take a ball or frisbee, with so much flat space it's perfect for fetch! But remember to steer clear of any field that's in use.
✔️ Central location ✔️ Large flat off leash space ✔️ Perfect for fetch
9. Macleans Park
Macleans Park our Eash Auckland is a massive off-leash space right by the beach right next to a (on-lead) picnic area which makes it the pawfect spot for a Saturday beach trip with the family or your mates. There's a great network of trails that circuit this large 36 ha space which features a mix of rolling hills and wooded walks.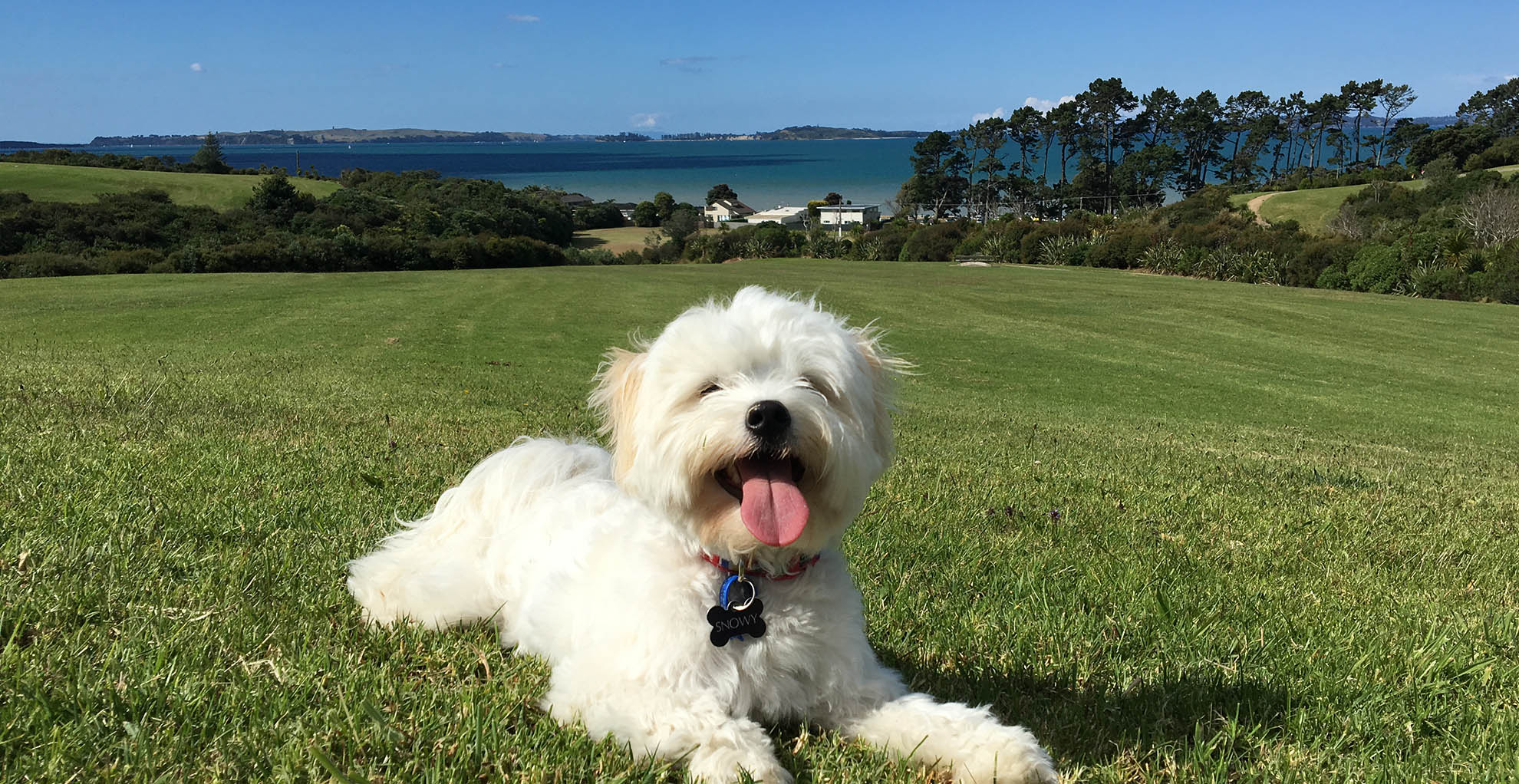 There's amazing views over Eastern beach up the top of the park but in summer skip the middle of the day, there's not that much cover until you enter the gully.
✔️ Family friendly ✔️ Great walk with beautiful views ✔️ Large off leash area
8. Gery Lynn Park
Need a good space smack bang in the middle of Auckland to give your dog a bit of exercise? Grey Lynn Park is a great choice! It's mostly on-lead but has two dedicated off-lead spaces where your dog can have a good play. Since it's popular with other dog pawrents there's bound to be another pup or two willing to help tire your little one out.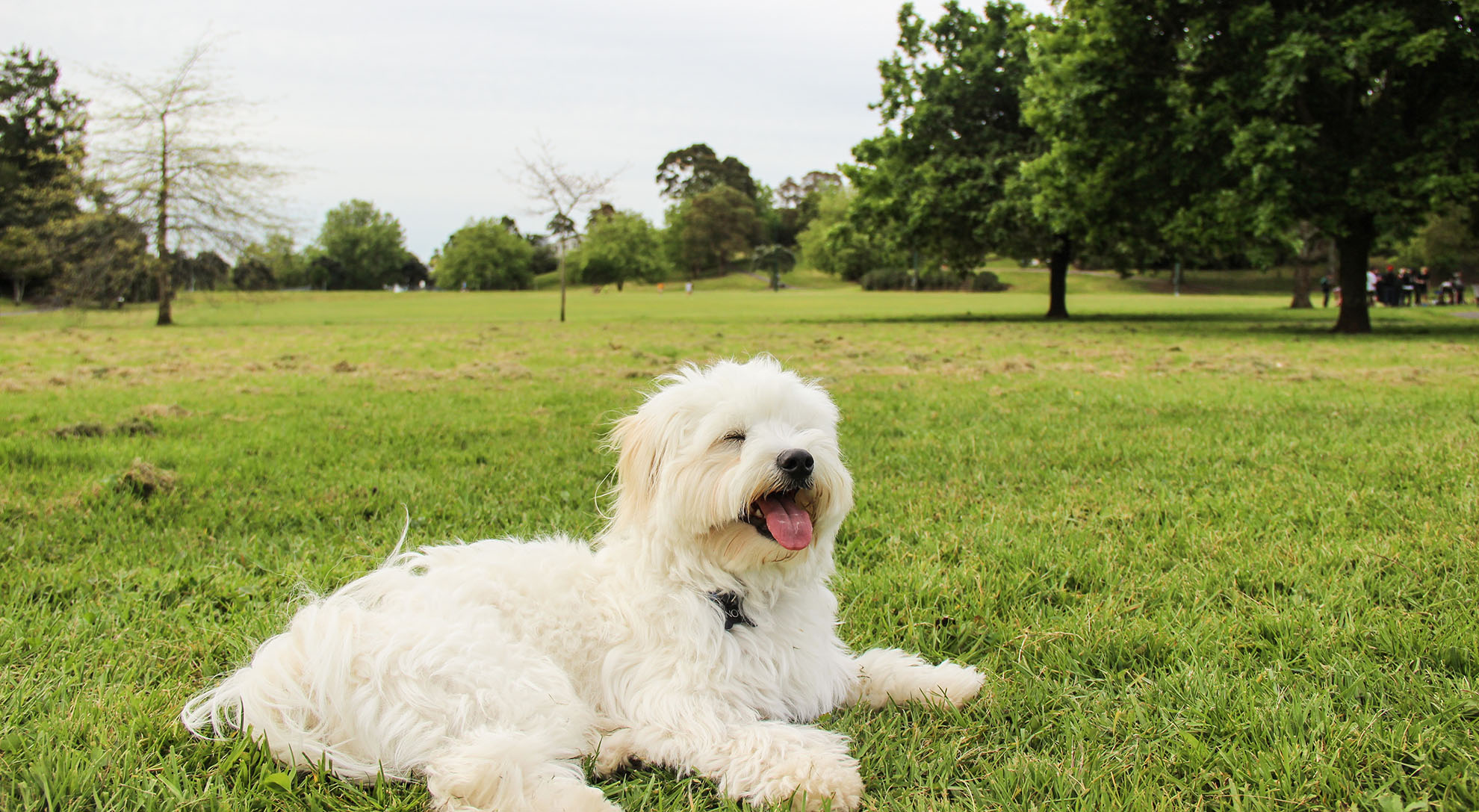 The off-lead spaces are a little on the small side so Snowy was unwilling to place this higer, but it is an absolutely fantastic space bursting with activity on the weekends. Since it's popular with the locals you're bound to bump into someone which is a plus.
✔️ Popular with other owners ✔️ Some off-leash areas ✔️ Super close to the city
7. Sanders Reserve
Out along the upper reaches of the Waitemata Harbour in Paremoremo you'll find this gem - Sanders Reserve. It's a mixed use park that caters for horse riders, mountain bikers, and dog walkers. Don't worry - everyone has there own dedicated space, there's 41 acres to go around. The dog off-leash area is located in the south-eastern section of the park and has heaps of varied terrain that your dog can explore.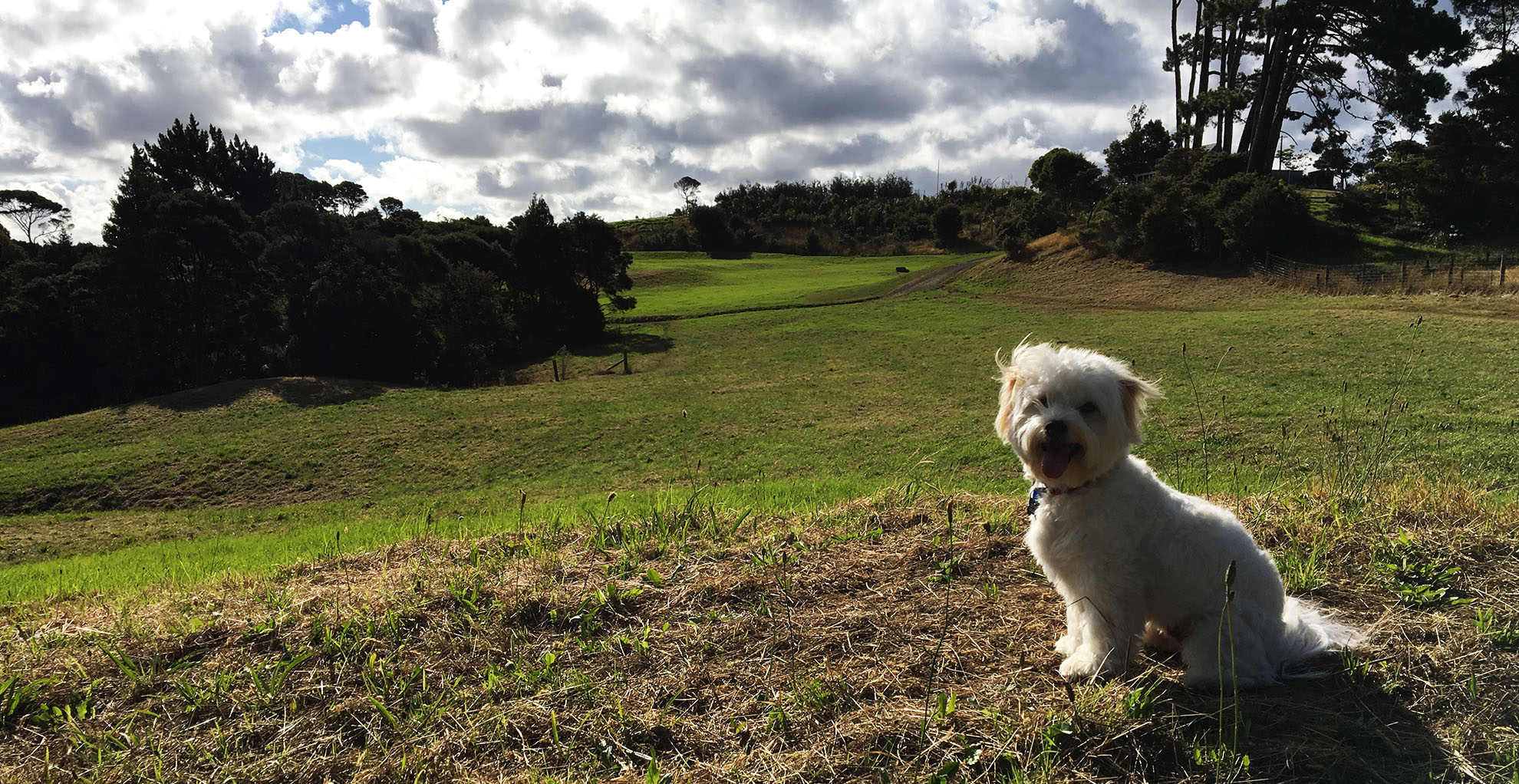 We couldn't find any bins so be prepared to take everything away with you, however all the other facilities are of a very high standard so is a great weekend destination for a trip out of the city. Just pack a lunch, have an enjoyable walk and enjoy the views at the end of it all.
✔️ Fenced location ✔️ Huge space with varied terrain ✔️ Family friendly
6. Churchill Park
Created at the end of WWII and named after Winston Churchill, Churchill Park is a fantastic slice of urban farmland smack bang in the middle of Glendowie. At about 40 hectares complete with up to 60 grazing cattle you would never think you were in central Auckland. There's plenty of paths to follow but Snowy's favourite takes you around the fields up top and down through a shaded Nikau grove by the stream.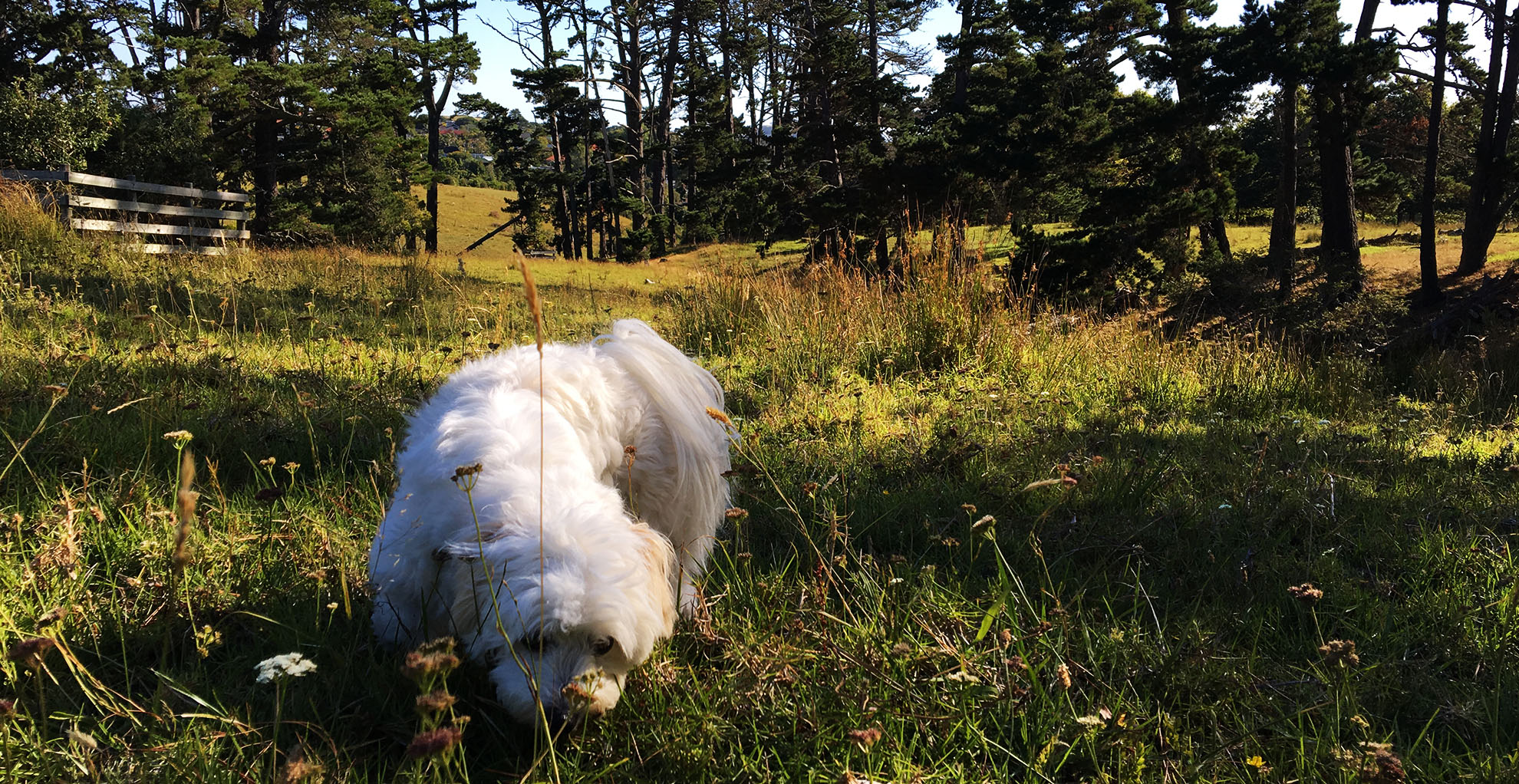 Keep an eye out for cattle, they could be anywhere! But the park has lots of open space and plenty of good views, perfect for an afternoon walk and game of fetch. Coupled with its central location this is a firm favourite of both Snowy's and ours.
✔️ Large off leash area ✔️ Great walk of good length ✔️ Popular with other dog pawrents
5. Big King Reserve
Te Tātua-a-Riukiuta (a.k.a Big King) Reserve is a large off-leash area tentered around a volcano at the end of dominion road. It has both flat and steep terrain keep it interesting for your pup an catering to a wide rage of play styles. You can head up to the top for some spectacular views over the city or head right to the flat area half-way up which seems to be the defacto meeting spot for all the pawrents.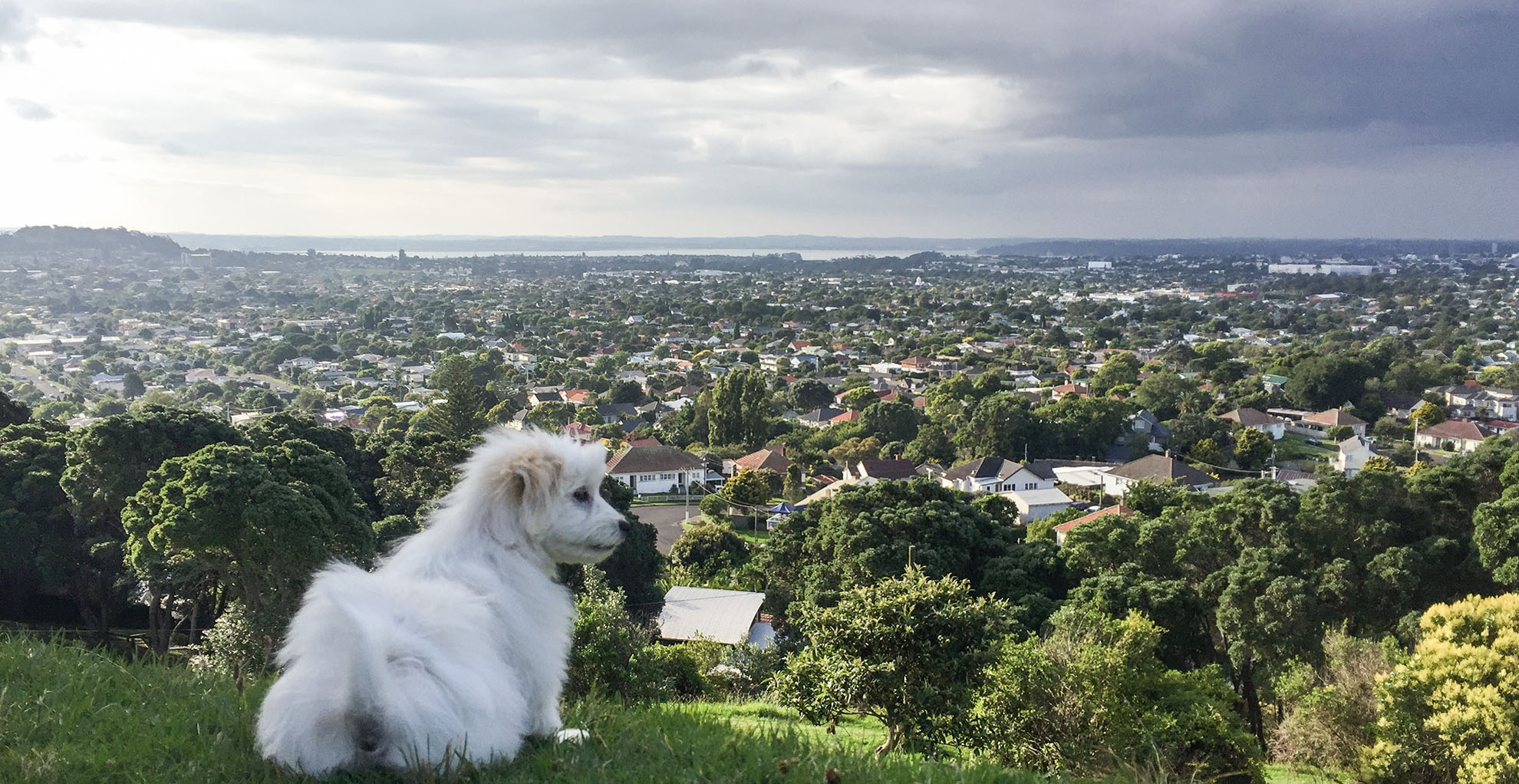 This park is extremely popular so is very good for socialising (both you and the dog!) - you'll find people up here pretty much anytime of day but is most popular with the after work crowd around 4:30-6:00pm. We've found everyone to be super friendly and relaxed so it always makes for a great trip for you and the pup.
✔️ Popular with other dog pawrents ✔️ Large off leash area ✔️ Fantastic views over the city
4. Craigavon Park
Craigavon Park is an excellent off-leash park out west which contains a diverse array of grassy areas, regenerating native forests, a waterway, and a dog agility course. Snowy loves Craigavon because there's a little bit of something for every dog. He's not much of an agility pup but he loves chasing other dogs through the course!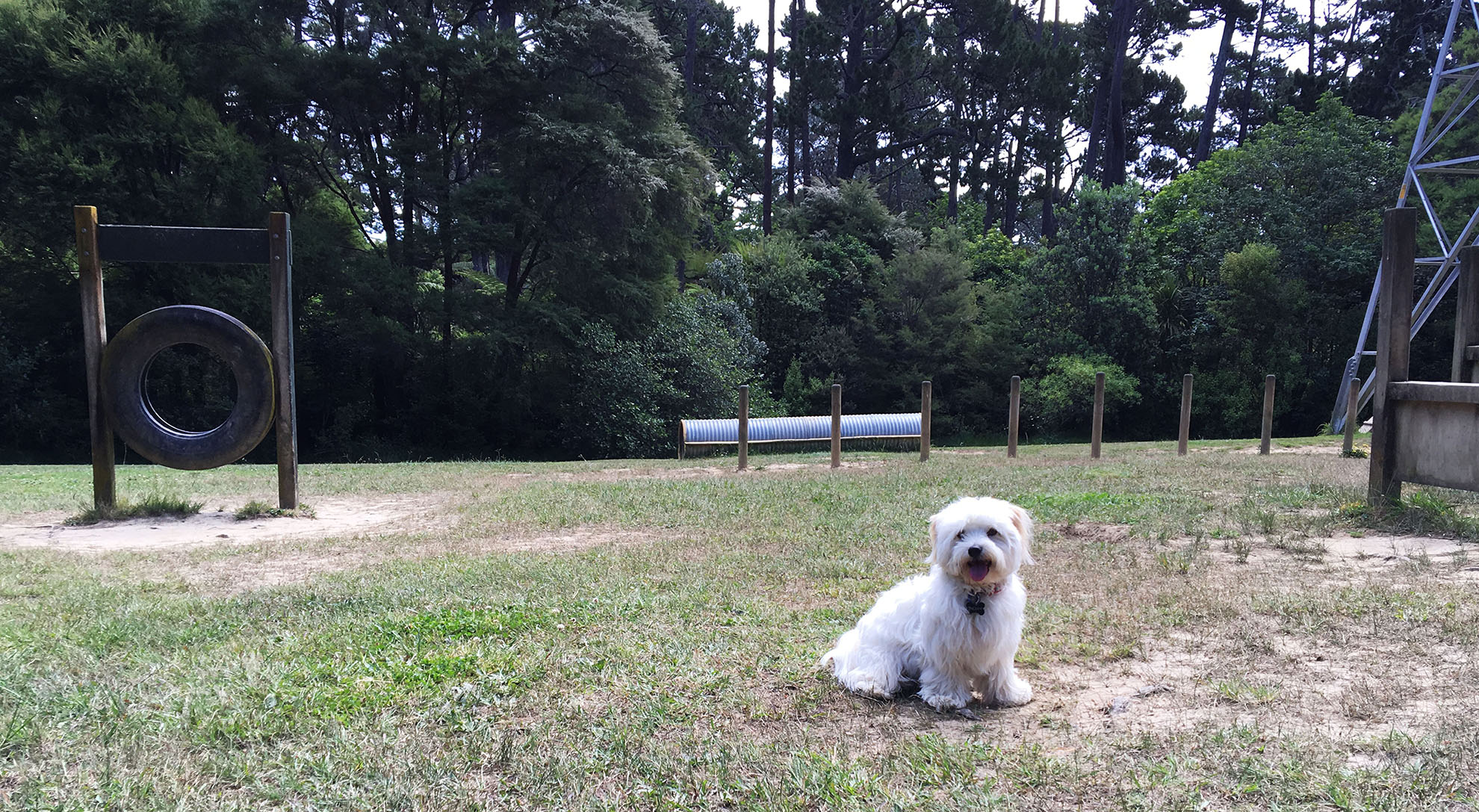 The trail around the park is a good 1.1km and is a very enjoyable flat walk. It's even good on a sunny day as there's lots of shade and a (small) stream for the dogs to cool off in. It's another popular spot so there's bound to be another dog or two who will help burn off some energy!
✔️ Dog agility course ✔️ Large off leash area ✔️ Popular with other dog pawrents
3. Waiatarua Reserve
New Zealand's biggest urban wetland restoration project at over 20 hectares is right next to Remuera Golf Course. Waiatarua Reserve is an absolute favourite of ours as it's a large off leash area that will take about an hour to walk around at a leisurely pace so is perfect for both high energy pups, as well as dogs that like to take it steady as it's nice and flat. You need to keep your dog away from the wetlands in the middle of the park but there's an excellent swimming hole for the pups about half way around the circuit.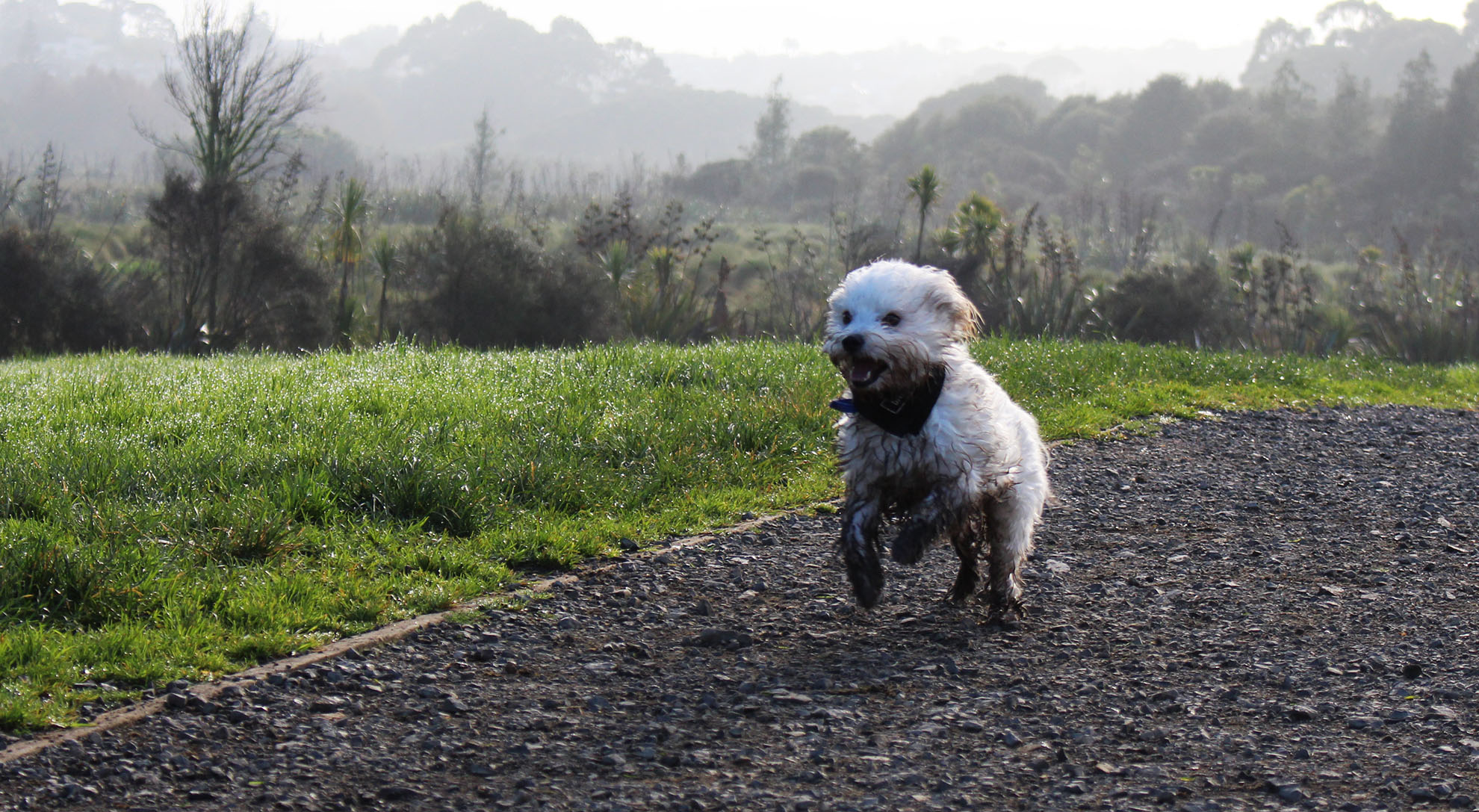 There's bags and bins provided but it can get very muddy in the winter so your dog is probably going to need a bath afterwards! You can't go wrong taking your pup for a play here - lots of space, lots of other dogs to socialise with, well maintained paths, good facilities and even a swimming pond to cool off in. Definitely one of Snowy's favourites.
✔️ Large off leash area ✔️ Swimming pond ✔️ Easy flat walk of good length
2. Orakei Basin
The Orakei basin is a tidal lagoon that's about 70% off-leash, 30% on-leash past the boat club and on the boardwalk. The trail around the basin is about 4km long and will take 40-60mins to complete. The basin foreshore just down from Upland road is the best place to start the walk as it's a large grass off-leash area where your dog can run about at full speed and even take a dip in the lagoon.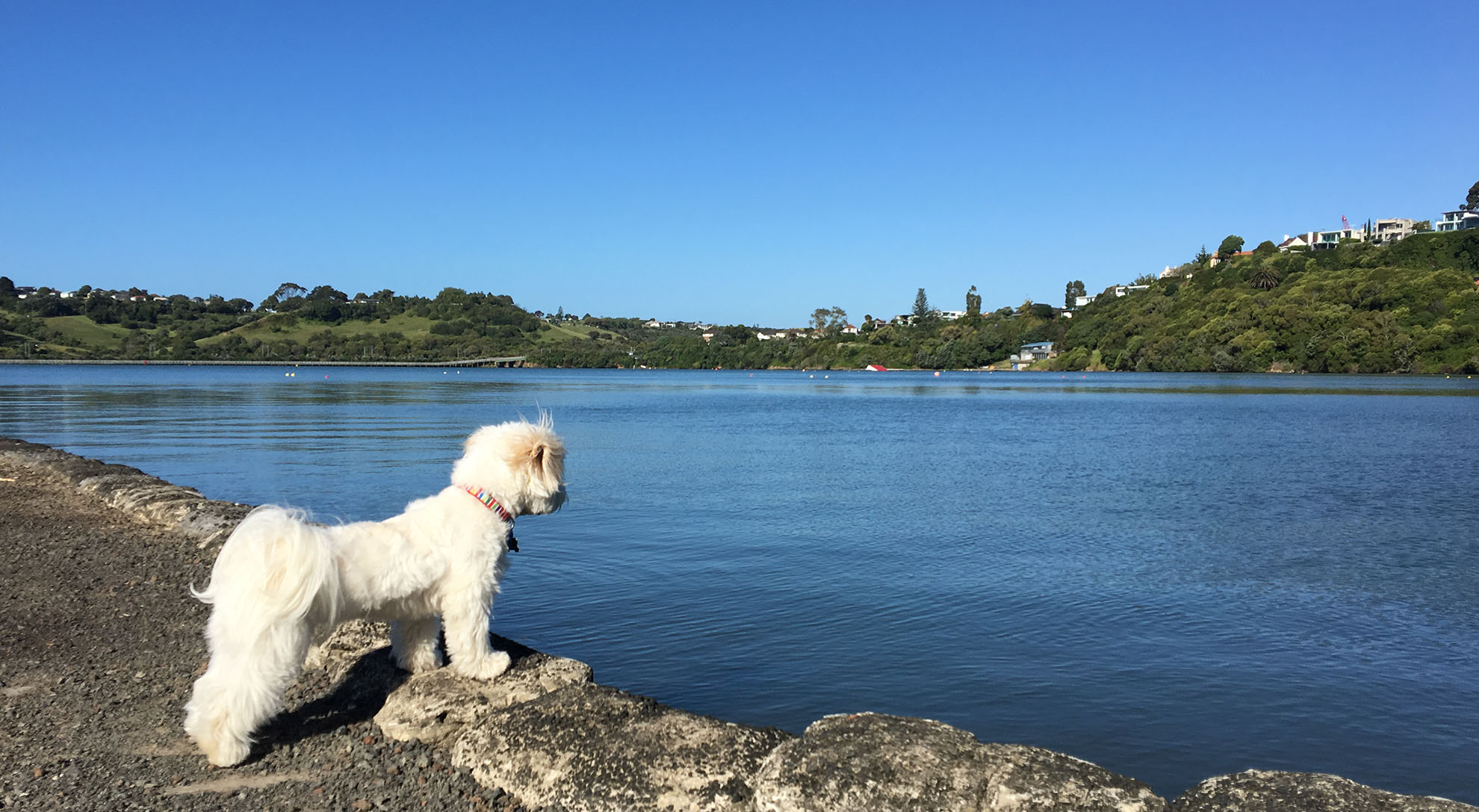 This is Snowy's second favourite as there's always lots of dogs to play with and heaps of space to play chase and fetch. The best bit is that he can take a dip in the basin if it gets too warm. It's also very central and a great walk in its own right so the hoomans like it too.
✔️ Large flat off leash area ✔️ Great walk of good length ✔️ Good for a quick dip
1. Kakamatua Inlet
And Snowy's top pick is… Kakamatua Inlet. It has to be one of the best dog friendly beaches in Auckland, and given it's distance from the city (about a 45 min drive) it makes for a perfect weekend adventure away from the city. It's best to go at low tide when most of the sandy space is exposed, this gives your pup free run of the inlet. This gem isn't so secret anymore and you may be hard pressed to find a park at peak season but it's definitely worth the trip - it's busy for a reason.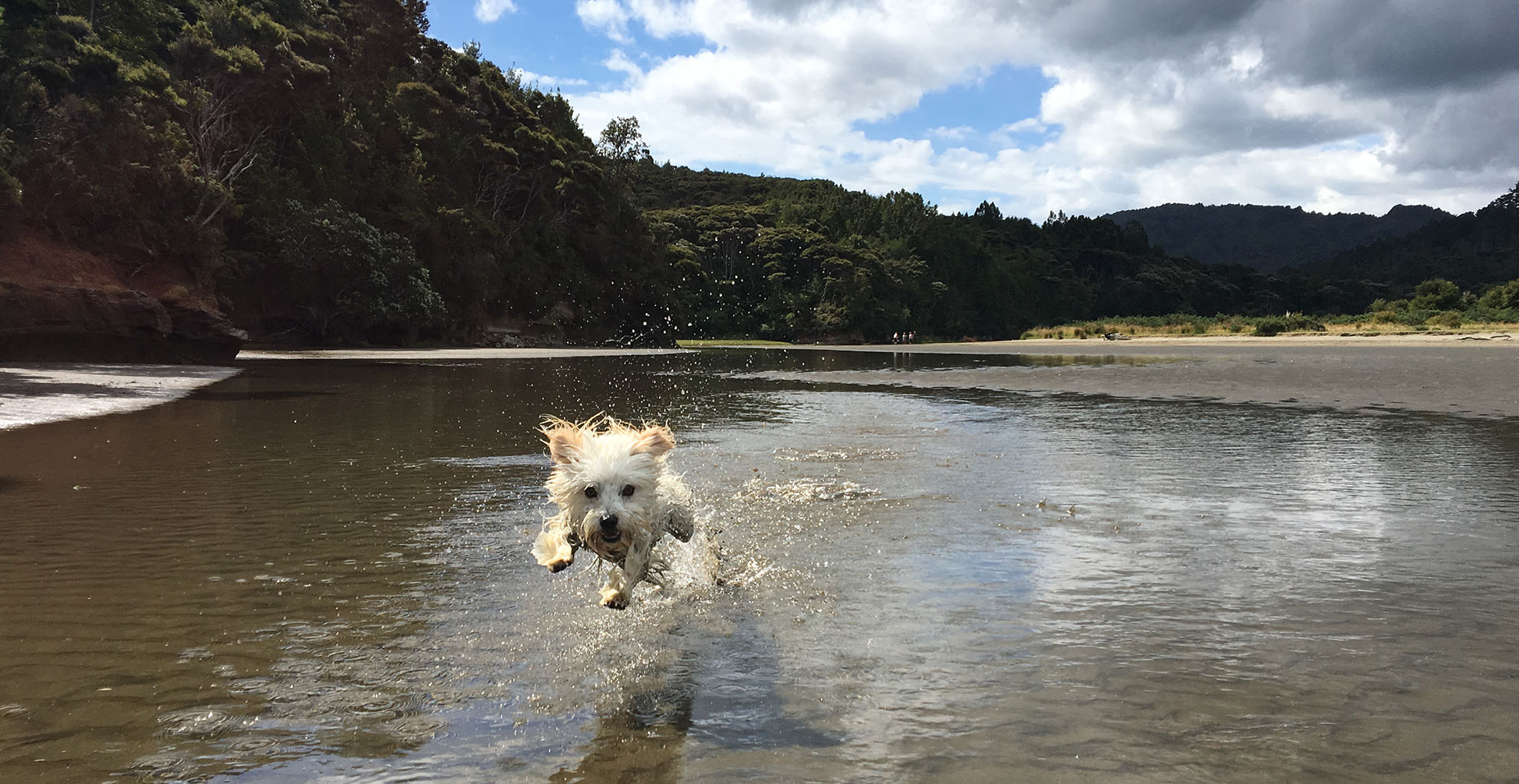 Snowy has a soft spot for this walk as this is where he learned to swim in the ocean for the first time. The bay is sheltered so it is usually nice and calm and a very gentle slope deeper which is perfect for building confidence in the water. The fresh water stream is also a favourite as it's shallow enough in parts to sprint through the water at top speed! If you haven't visited Katamatua make sure you book in a weekend trip on a nice sunny day - your dog will love you for it!
✔️ Large flat off leash area ✔️ Excellent swimming options ✔️ Popular with other dog pawrents
Snowy is constantly on the explore, keep up to date with all his latest adventures here.
Does your dog deserve a personal shopper? Take a look at Bark Bag, we send out dog treats tailored to your dog's preference profile.
GET STARTED