The park started life as farmland and was later sold and developed as a golf course in the 1920s. The club was no longer viable after most of its members enlisted for military service during WWII and the space was converted to a park in 1945. Named after Winston Churchill, Churchill park lies in the Auckland suburb of Glendowie. At approximately 40 hectares the park offers an enjoyable walk through urban farmland complete with up to 60 grazing cattle.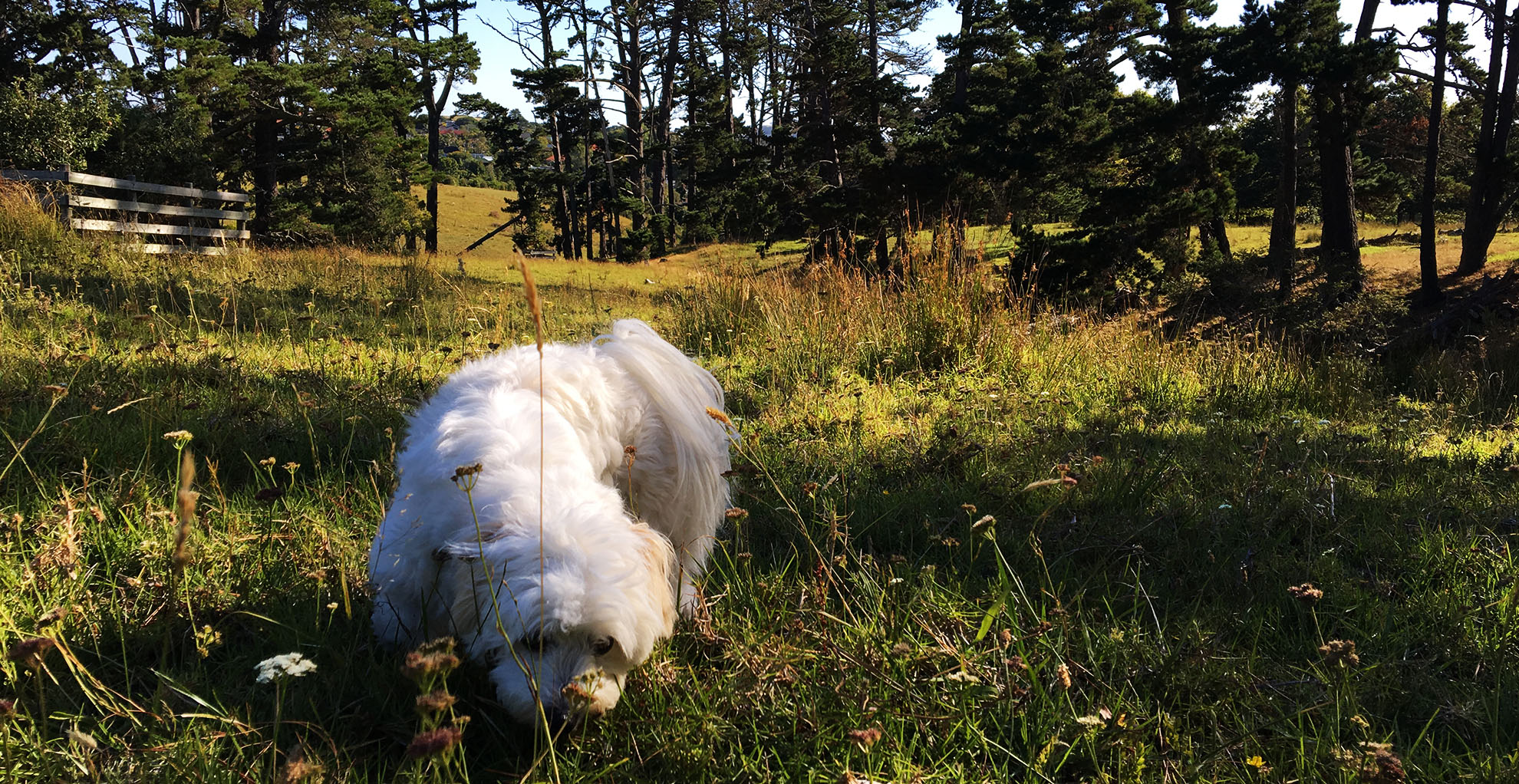 The park is a fantastic off-lead space for dogs (there is a small on-lead area by the school but it is clearly sign posted). There is a lot of open space so Snowy absolutely loves to bounce around at top speed. Keep an eye out for cattle though, they could be anywhere in the park. If you're unsure how your dog will behave around them it's best to have your leash ready in case your dog needs help passing them.
There are a few options for getting around the park but the main car park is just of Riddell Road and is at the start of a nice loop track about 2.5km long. The track has a little bit of everything, a short shaded walk folling a stream through a Nikau grove, some big very establised pine trees, lots of open grass land, and some stunning views over the harbour up the top of the track. You wouldn't realise you were in central Auckland.
The park has a real mix of terrain and is suitable for people of all ages and abilities, with the main loop track taking about 30mins to complete. However it gets a bit muddy during winter and there are no toilets on hand.
Location: Riddell Road, Glendowie
Snowy's Rating: ⭐⭐⭐⭐⭐

One of Snowy's favs. A good central location with lots of open space and plenty of good views and varied scenery. Take a ball or frisbee as this is a fantastic spot to play fetch. It's also a very nice walk in it's own right so you're guaranteed to enjoy it too. It's a firm favourite of ours as well as Snowy's.
✔️ Large off leash area with varied terrain
✔️ Great views and good scenery
✔️ Great walk of good length (some sections are steep with steps)
✔️ Popular with other dog pawrents
✔️ Family friendly
5⁄5: Great spot!
While we do our upmost to ensure all information is correct. Council policy does change and you should always check the council website for the latest guidelines.
This is a multi-part series where we review Snowy's favourite dog walks in Auckland. View all the posts in the series here
Does your dog deserve a personal shopper? Take a look at Bark Bag, we send out dog treats tailored to your dog's preference profile.
GET STARTED