The most common question we get asked is "what comes in a Bark Bag?".
The easy reply would be lots of goodies that your dog will absolutely love! However this doesn't do justice to our service or recommendation engine Scout.
The truth of the matter is not quite so simple. Like a personal shopper, Bark Bag selects different things for each client as each dog will have a unique profile. Just like Lady Gaga's personal shopper will return with a very different bag of goodies to Catherine Middleton's (sorry I should say Duchess of Cambridge), your dog's bag could look very different to ol' Charlie's down the road!
We choose high quality products to put into each bag with a preference for New Zealand suppliers. As a starting point, we will look at the seed attributes selected for your dog and include products that we know are generally loved by fellow lovers of chew treats/snuggle toys/natural treats and so on. The more detail we have about your dog the better we can customise the experience for them and you. If you or dog has a particular treat that they absolutely love, we can do our very best to source that for you too!
Lets take Snowy (our puptastic chief testing officer) for example. His favourite toys are snuggle toys - the bigger and floppier the better. His favourite treats are chew treats and anything that has a high meat content.
Seed attributes I would select for Snowy would include:
Snuggle toys
Chew toys
Chew treats
Natural treats
Bones
From that selection his first Bark Bag would look a little like this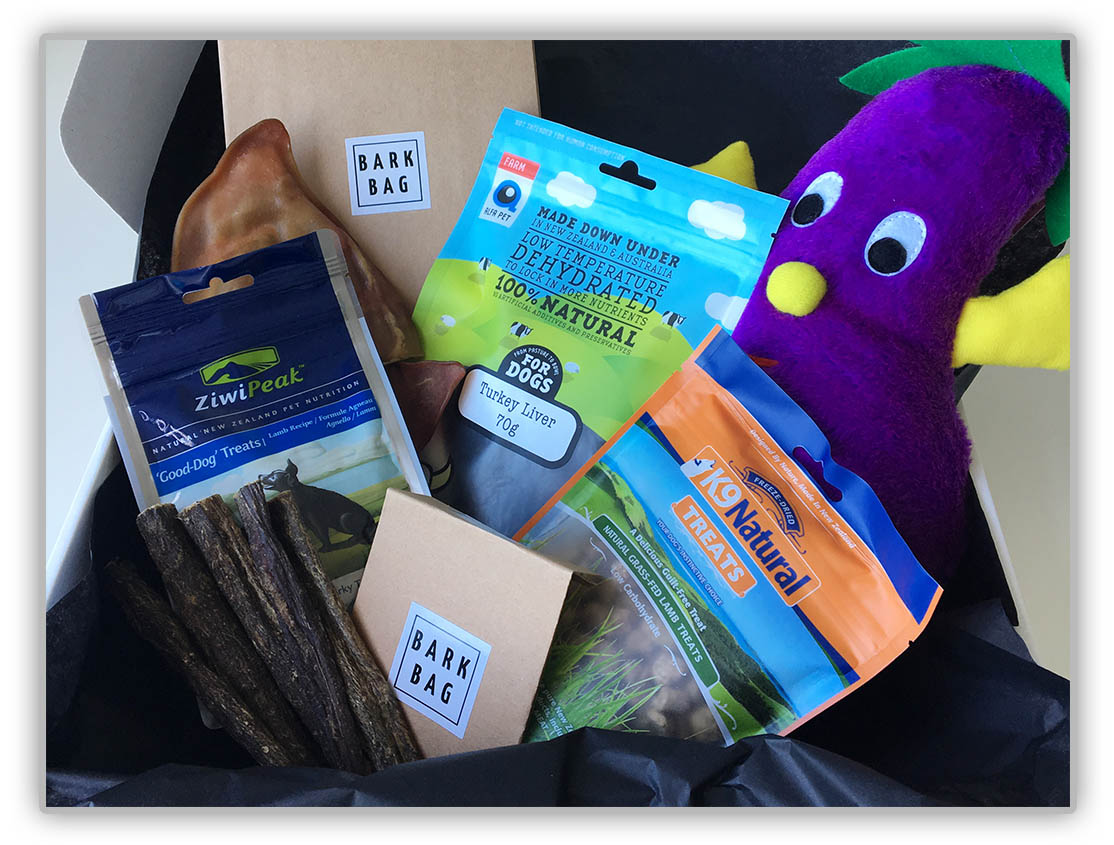 From here, what is in the next Bark Bag would depend on the feedback placed on the first Bark Bag. I can:
rate each product and get another selection of treats and toys based on the tweaked preference profile
request to never receive a particular treat again
request to receive it again next month because Snowy absolutely loved it!
request a chew toy
request a baby unicorn (disclosure: this will probably not be possible and orders for baby unicorns will most likely remain unfilled)

In this way, we can cater to even the fussiest of dogs and dogs with allergies or dietry requirements. We believe that when you order a Bark Bag, you're not only ordering a box of amazing goodies but you're also establishing a relationship with us. Our ethos is to work as closely as possible with our clients to give both you and them an amazing experience.
Does your dog deserve a personal shopper? Take a look at Bark Bag, we send out dog treats tailored to your dog's preference profile.
GET STARTED
We are currently building our network with a wide range of suppliers but we particularly want to work with New Zealand suppliers. If you're passionate about dogs and dog treats and toys then please get in touch with us. We absolutely love small boutique suppliers and would love to include your products in our Bark Bags!