The area bounded by Kinross Street, Connell Street, Connaught Street and Portage Road known as Craigavon Park was gifted to the City of Auckland in 1929 by Mrs W.H. (Caughey) Smith on the condition that it is used as a public park.
Craigavon sits right in the middle of what once was the Whau portage pathway which was used by The Maori people and later Europeans to carry a waka or boat from one side of the North Island (Te Ika-a-Māui) to the other. The Maori people would have most likely used the area we now call Craigavon park as a resting place after dragging their waka up from the Whau rivier. This old pathway is what lends Portage road, which borders Craigavon, it's name.
It's a fantastic space for dogs and humans alike. It contains a diverse landscape consisting of large grassy areas, regenerating native forests and a slow moving small stream which is perfect if your dog likes to swim. There are outdoor exercise stations you can use as you make a circuit of the park with your pup. This is great if you tend to exercise with your pup.
In the middle of the park there's a dedicated dog agility course with a range of obstacles from hanging tires to jump through, pipes to run through, and posts to weave around. I haven't had too much luck with Snowy but it's super popular and a great place to stop and chat with other dog pawrents as the dogs burn off some energy.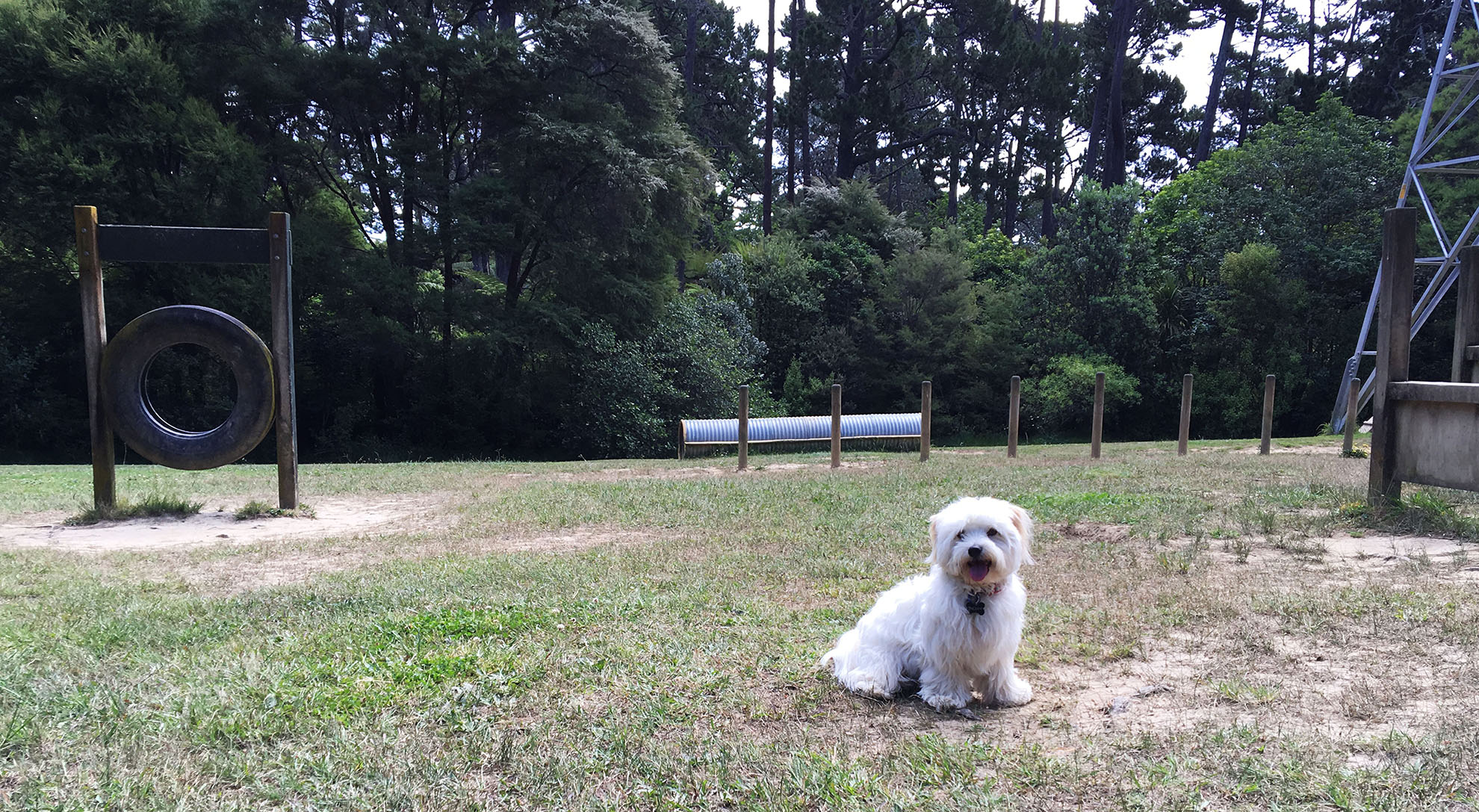 The trail around the park is about 1.1km and is a very pleasant flat walk - even in the height of summer as you get a lot of shade from the trees. The area isn't fenced but the primary dog area is in the centre of the park and because the space is so big there is little worry about your dog ending up on the road. There's a fenced off playground and BBQ area which makes it a perfect day out for the whole family - as a bonus it is easy to get to and has a free car park.
Location: 82-86 Kinross St, Blockhouse Bay
Snowy's Rating: ⭐⭐⭐⭐⭐

Another one of Snowy's top picks. You can't go wrong spending a lazy Sunday afternoon out here - with a great walking trail, streams, dog agility course, and varied terrain it's a top spot for dogs and humans alike. Always busy when we visit so there are plenty of friends to be made here!
✔️ Fully off-leash (just stay 10m clear of any playgrounds)
✔️ Huge area
✔️ Dog agility course
✔️ Popular with other dog pawrents
✔️ Family friendly
5⁄5: Great space, one of Snowy's favs!!
While we do our upmost to ensure all information is correct. Council policy does change and you should always check the council website for the latest guidelines.
This is a multi-part series where we review Snowy's favourite dog walks in Auckland. View all the posts in the series here
Does your dog deserve a personal shopper? Take a look at Bark Bag, we send out dog treats tailored to your dog's preference profile.
GET STARTED