Kakamatua Inlet is one of the best dog friendly beaches in Auckland and is perfect for a weekend adventure away from the city for you and your pup. At about 15 mins from Titirangi, or about 45 mins from the CBD it is a bit of a drive but well worth it!
It's best to go at low tide to give your dog maximum enjoyment as a large open sandy space will be exposed - perfect to charge about at top speed or play fetch. There's also a fresh water stream so your pup can have a quick drink to stay hydrated.
One of our favourite aspects is that the water is very calm and gradually slopes away making it perfect to teach your pup to swim - especially if they're not a water baby! Normally Snowy stays clear of any large bodies of water but the huge areas of calm water with plenty of other dogs leading the way gave him all the confidence he needed. This was the place of his first ocean swim!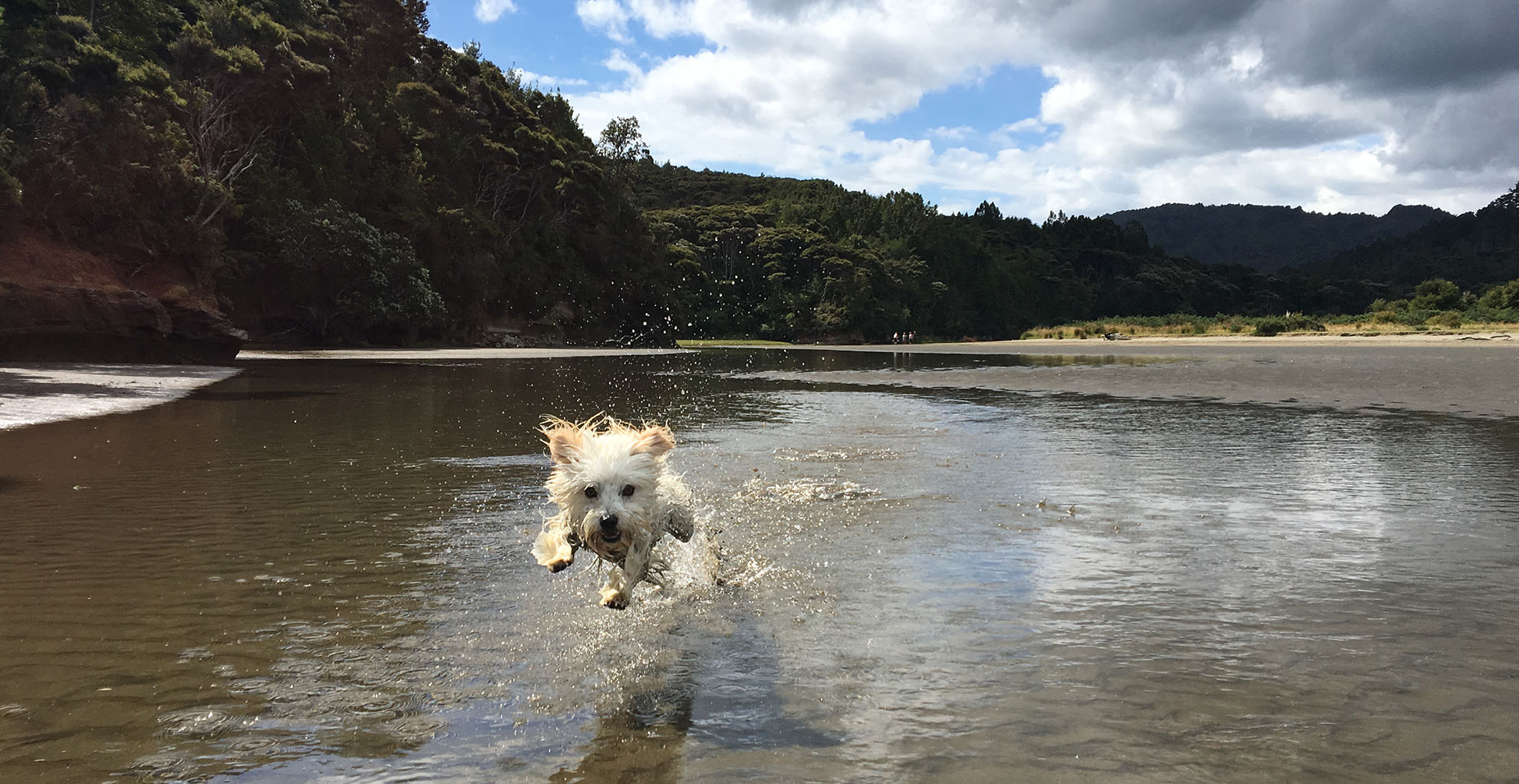 It's super popular with other dog pawrents so there's plenty of other potential playmates around to help your pup burn off some excess energy. Perfect place for that packed picnic and day out just chilling. This spot is especially popular in summer and a park can be difficult to get!
There aren't any plastic bags on location, so bring your own, but doggie bins are provided. They are located on the small path leading from the carpark to the beach which winds through the bush. Although the inlet is all off-leash, the bush walk isn't so your dog needs to be onleash for the walk to and from the car.
Location: Huia Rd, Cornwallis
Snowy's Rating: ⭐⭐⭐⭐⭐

One of Snowy's top picks, this spot has it all - dogs, water, sand, huge open spaces. You can't go wrong. Perfect for a little weekend adventure away from the city and a fantastic area that we're lucky to have.
✔️ Large flat off leash area
✔️ Both fresh water and salt water swimming options
✔️ Popular with other dog pawrents
✔️ Perfect calm spot to help build water confidence
✔️ Family friendly
5⁄5: Great spot!
While we do our upmost to ensure all information is correct. Council policy does change and you should always check the council website for the latest guidelines.
This is a multi-part series where we review Snowy's favourite dog walks in Auckland. View all the posts in the series here
Does your dog deserve a personal shopper? Take a look at Bark Bag, we send out dog treats tailored to your dog's preference profile.
GET STARTED