This is a great spot close to the city for your pup to have a good run around and swim. It is part of the Taumanu Reserve which was opened in 2015 as part of the restoration work in the area promised almost 50 years ago when the motorway was built back in 1977. We took Snowy for a walk around the lagoon at Onehunga Bay Reserve which is now known as Te Tauranga, the landing.
The lagoon is bordered by a fantastic flat large grassy area and circled by a gentle walkway making it extremely accessible. Since the lagoon is separated from the sea it is very calm which is great to build up your pups confidence around water. Even Snowy ventured in deeper than he normally goes!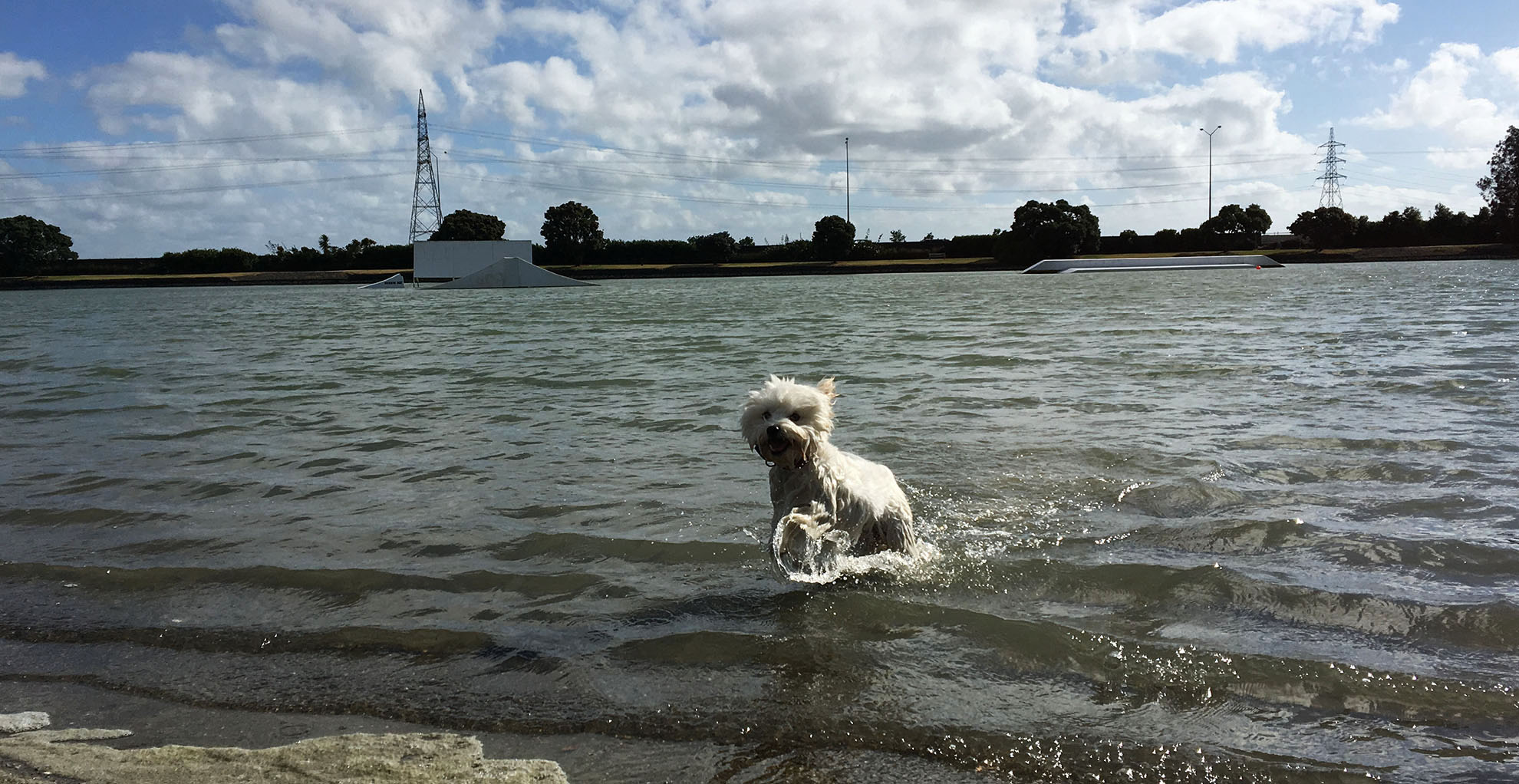 The looped walkway takes about 15-20 minutes to walk around or longer depending on how often your pup stops to play! The area is very popular with other pawrents so there's always lots of other pups to play chase with around the water or on the grass.
There's no avoiding the giant power pylons running through the area, or the motorway right next door, but it makes the area feel a bit different to your more traditional dog parks. A great walk for something a bit different.
Location: End of Beachcroft Ave, Onehunga
Snowy's Rating: ⭐⭐⭐

This lagoon is a great off-leash option and provides a lot of variety for your pup. Lots of different textures here - water, grass, silt. Be prepared to give your pup a wash when you get home!
✔️ Large flat area perfect for fetch or chase
✔️ Popular with other dog pawrents - lots of other dogs to play with
✔️ Good central location
✔️ Great for building water confidence

3⁄5: Great spot, recommended for a quick summer afternoon run about with all that water to cool off in!
While we do our upmost to ensure all information is correct. Council policy does change and you should always check the council website for the latest guidelines.
This is a multi-part series where we review Snowy's favourite dog walks in Auckland. View all the posts in the series here
Does your dog deserve a personal shopper? Take a look at Bark Bag, we send out dog treats tailored to your dog's preference profile.
GET STARTED