The Point was originally covered in Kauri forest and known as 'Onekiritea' along with its surrounds by the local iwi, named after the clay soil found in the area. It was renamed to "Port Hobsonville" when it was purchased by the Crown in 1853. The Point also has a rich military and aviation history. Some of the old bunkers that were designed to securely store explosives still dot the landscape around the area and give the area its nickname - Bomb Point.
The park in the area is being developed by the Hobsonville Land Company in tandem with all the housing in the area. The park is not quite finished and there's still a bit of work going on but the area is open for exploration.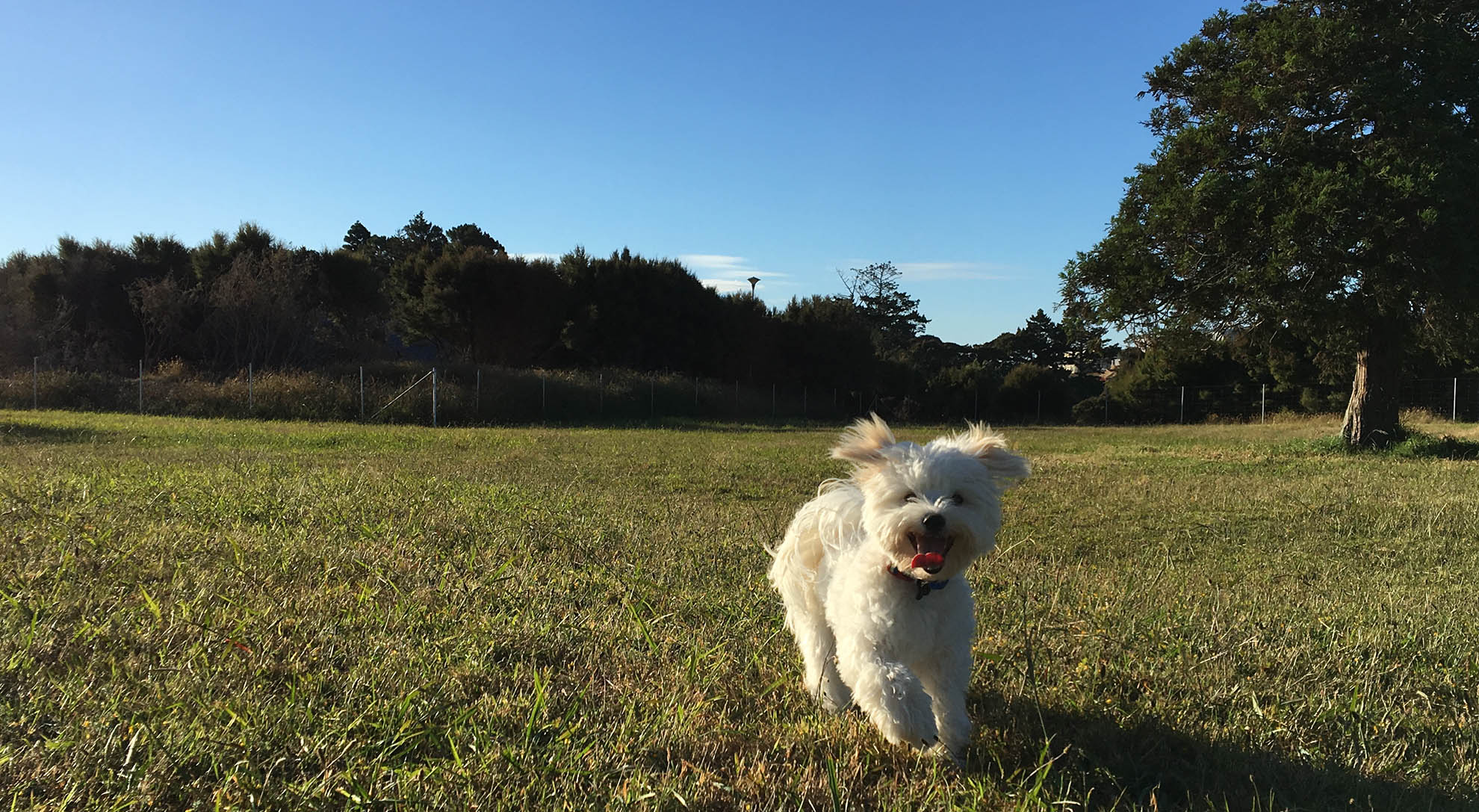 The area is only accessible by foot or bicycle. We entered the park from Launch Road where you can park down by the ferry and take a gentle 10 minute stroll along the waterfront before reaching the dog friendly area. The off-leash area is clearly signed and is fully fenced. Unfortunately your pup isn't allowed off-leash in the greater park area. No chasing rabbits (of which there are quite a few) for them!!
The facilities are very good. There are plastic bags provided for cleaning up after your pup and the fenced off area is a great size and built to a good standard. This is a great area to throw a ball around for your pup but there is little in the way of varied terrain if your pup enjoys water features. It's just a bit of a shame the dog has to be on-leash for the entire walk to and from this area.
For the locals living in the new complexes going up, the park is a fantastic local amenity. However, it is a long drive out of central Auckland for anyone else looking to use it. Unless you're interested in the rich aviation history of the area there are lots of other options that aren't as far out.
Location: Launch Road, Hobsonville Point
Snowy's Rating: ⭐⭐

This area is fantastic for the locals with good facilities. However it is a long drive out for everyone else which makes it hard to recommend for all, especially as your dog is only allowed off-leash in a very defined area.
✔️ Great facilities, including doggy bags
✔️ Well fenced off-leash area
2⁄5: Fantastic spot for the locals, but a bit too far out to recommend for others not in the area.
While we do our upmost to ensure all information is correct. Council policy does change and you should always check the council website for the latest guidelines.
This is a multi-part series where we review Snowy's favourite dog walks in Auckland. View all the posts in the series here
Does your dog deserve a personal shopper? Take a look at Bark Bag, we send out dog treats tailored to your dog's preference profile.
GET STARTED