Owairaka (Mount Albert) is the dominant volcanic peak within the Mt Albert borough. In the past the mountain was heavily quarried for its high quality scoria. Today less than half of the original land mass remains and the two original volcanic craters have been leveled. One to make way for a playing field and the other to form a water reservoir.
Despite its history it is a beautiful reserve with great views. The walk around Owairaka and up to the summit is very pleasant and entirely off-leash (although dogs must be kept off the sports field at all times). Just watch out for cars along the road too as some of it is shared space!
This place is a bit of a hidden gem and doesn't attract the same number of people as Big King, Mt. Eden or One Tree Hill due to not being as dog friendly. This means there are less pups to play with but the facilities are great. There is a dedicated fenced off area of good size if you want to let your dog off-leash without the fear of them being run over. It is a nice well defined space for your pup to run around in.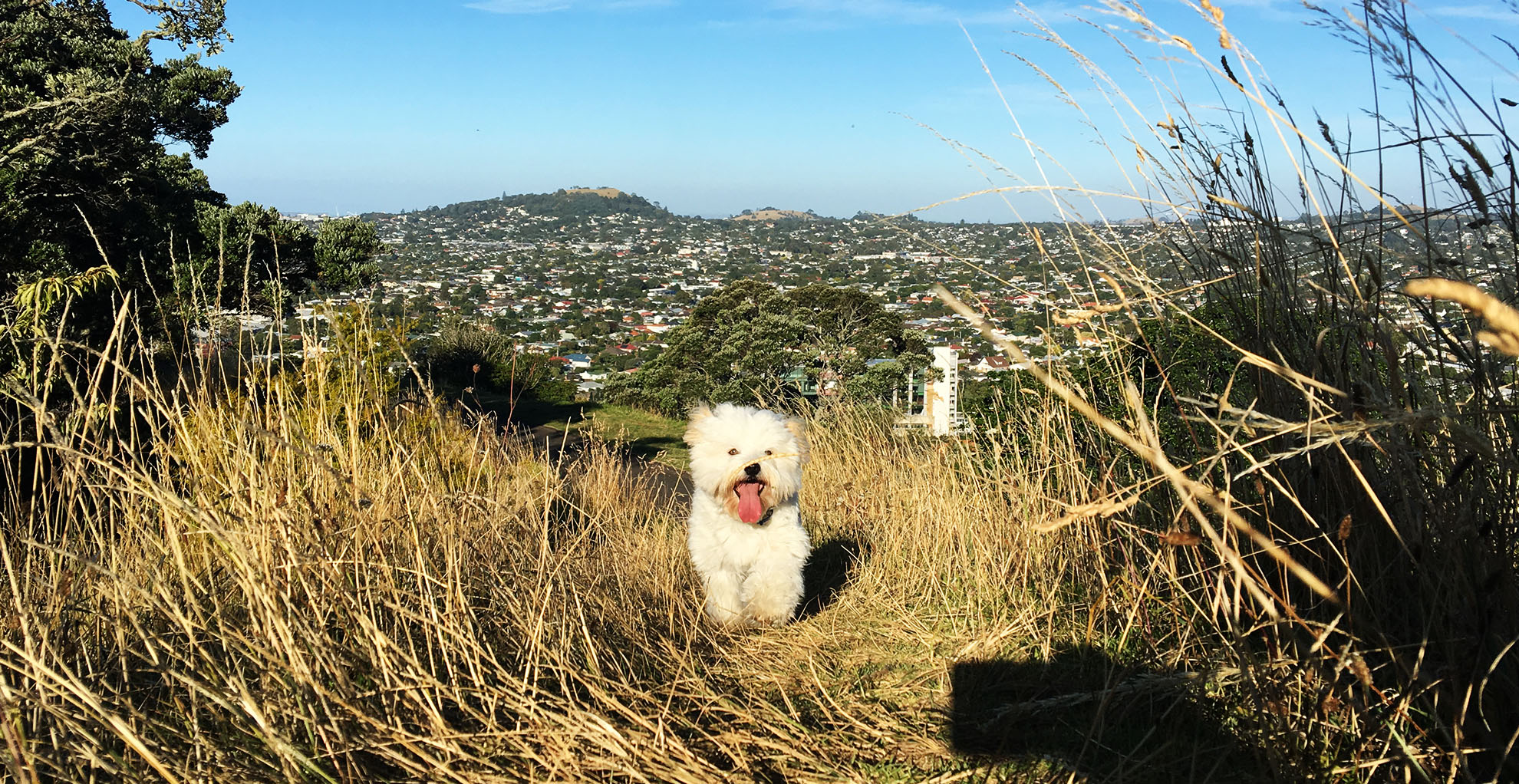 In winter the enclosed space can get pretty muddy and if you're tempted by the ring road be careful, there's limited visibility around some corners and the road is very narrow yet still open to traffic during the day. It's best to keep to the enclosed area and risk the mud. We found small tracks up off the road to walk on but some of these tracks were quite steep/precarious (but so much fun)!
To be honest - vehicle access isn't really needed for general public, the walk is very accessible and not too strenuous.
Location: End of Summit Drive, Mt. Albert
Snowy's Rating: 🌟🌟🌟

Dedicated fenced off-leash area - just be careful of cars when walking around the off-leash areas outside of the dog park.
✔️ Dedicated fenced off dog exercise area
✔️ Central location
✔️ Hidden gem which isn't as crowded

3⁄5: Good for an after work run about with the fenched dog park but the roads have limited visibility and there are better options nearby.
While we do our upmost to ensure all information is correct. Council policy does change and you should always check the council website for the latest guidelines.
This is a multi-part series where we review Snowy's favourite dog walks in Auckland. View all the posts in the series here
Does your dog deserve a personal shopper? Take a look at Bark Bag, we send out dog treats tailored to your dog's preference profile.
GET STARTED