Māori originally cultivated over 8000 ha of volcanic stonefileds around Tāmaki-makau-rau (the Auckland isthmus) However, all that remains today is Otuataua's 100 ha out at Mangere. It is one of the last volcanic areas in Auckland where you can see how people once lived and farmed the land through the remains of large scale stone and earthworks. This land was bought by the council in 1999 and one of New Zealand's oldest historical sites became one of our newest reserves in 2001. It could almost be called the birthplace of Auckland and is a special part of our history as a nation.
After arriving at the main gate theres a short walk down to the start of the reserve. You have 3 options for a defined walk, or you can just explore. The walks are designed with a historical, botanical or geological focus, each with markers that identifys areas of importance. Make sure you take a photo of what the markers signify before setting off! Otherwise you're just following a series of numbers around the park. However we noticed there are some markers that had numbers which were not on the map by the entrance.
This reserve is now on-leash at all times, it's still a fantastic walk but not a great exercise area as your pup won't be able to take full advantage of the space. The large space and super varied terrain make for an excellent spot to explore.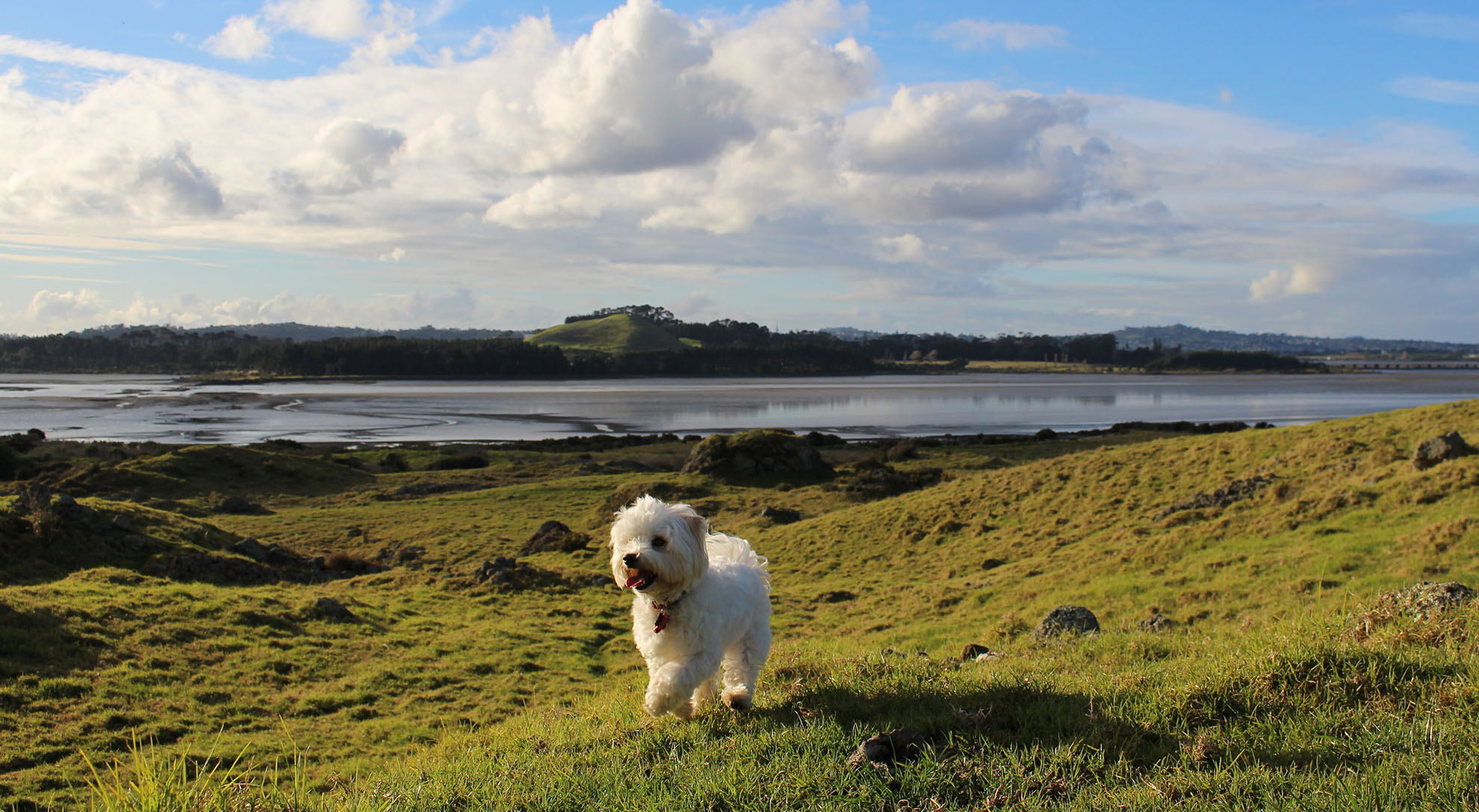 The area as a whole is very exposed so try to avoid the area on a hot day as your dog won't be able to cool down easily. The space is great for having an explore, the beautiful views and feeling like you're miles away from the city (when in fact you're right in it!) but be careful with your footing as the ground is uneven and there's lots of rocks around from the volcanic activity.
As a bonus there is an public avocado orchard planted in 1980 by Stew Rennie, a former landowner of the site, where you can pick avocados. There is a limit of 5 per person, this is so everyone can enjoy the space. It's no fun if there's nothing left to pick!
Location: Ihumatao Quarry Road, Mangere
Snowy's Rating: ⭐⭐⭐

Snowy loved this space - a huge area with lots of rocks and grass to run around. It's also very interesting from a historical perspective so makes for an intersting trip for the hooman too. There can be a bit of lifestock around that you need to be careful with, and it is exposed but overall an excellent spot.
✔️ Rich history making for an intersting walk
✔️ Great views, close to the city
✔️ Dogs allowed but on-lead at all times
✔️ Walks of good distance (each about 1-2km)

3⁄5: Great spot - awesome for the dogs and pawrents alike!
While we do our upmost to ensure all information is correct. Council policy does change and you should always check the council website for the latest guidelines.
This is a multi-part series where we review Snowy's favourite dog walks in Auckland. View all the posts in the series here
Does your dog deserve a personal shopper? Take a look at Bark Bag, we send out dog treats tailored to your dog's preference profile.
GET STARTED