Piha is a classic summer spot for Aucklanders, only about 40 minutes out of the city but feels worlds away. It retains a lot of its natural beauty and provides a huge space for your dog to run around in as well as a great day trip away.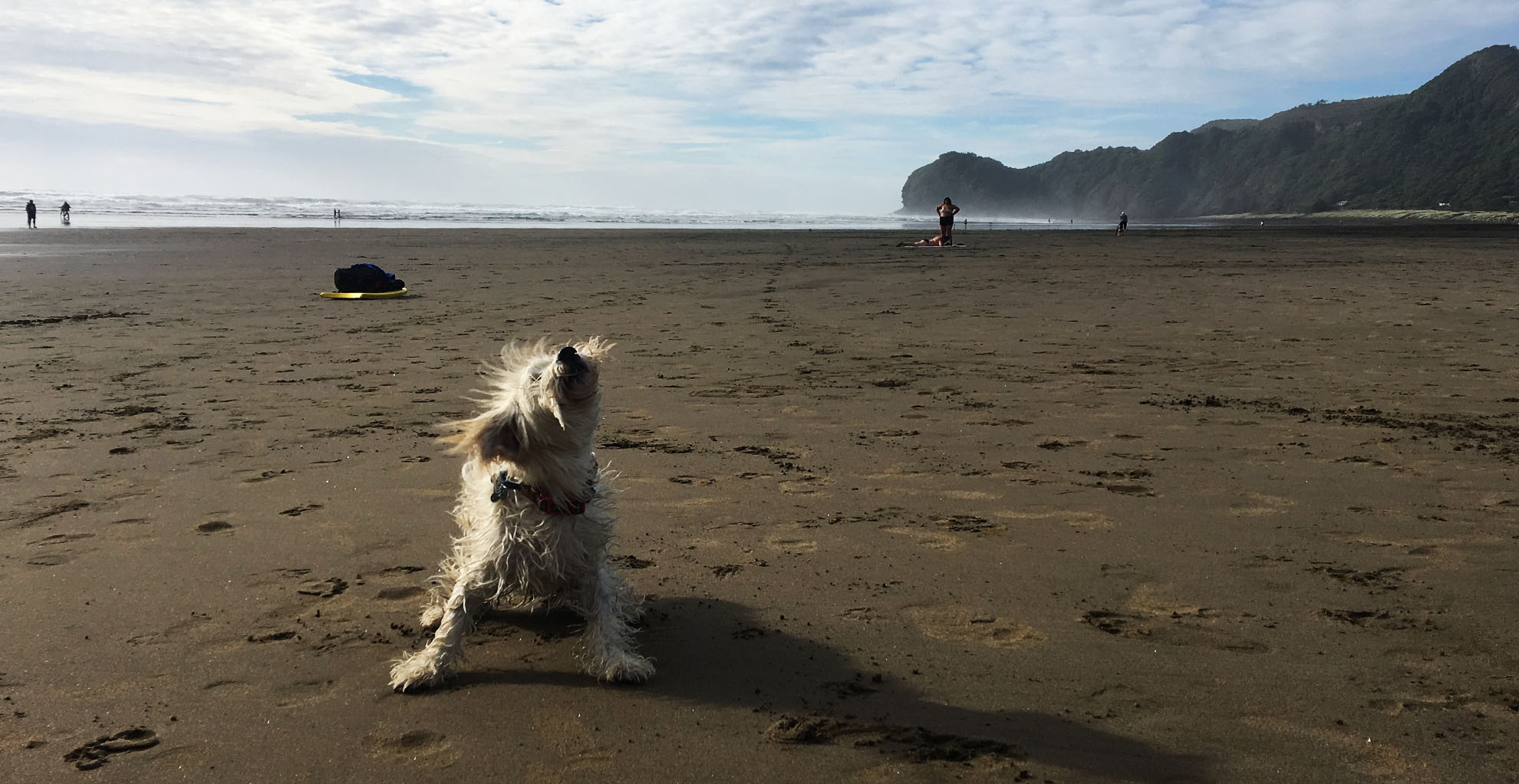 Dogs are allowed off-leash in the Piha Domain (the flat grass area) and the adjacent lagoon up to where the beach opens out to the south and north. There is also an area marked out to the North of Lion Rock by marker poles that the dog is allowed off-leash on (in practice this is up to about Monkey Rock - whatever you do, keep your dog off the dunes to preserve the wildlife!). We thought the instructions sounded a bit confusing but it's all very well marked out once you get down to the beach.
There is so much space to explore that your dog won't get bored anytime soon - there's everything from grass to run on, water to swim in, sand to dig up and driftwood to sniff and explore. It will be a fav for both you, your pup, and your friends and family. There are usually a few other doggos about so your pup will burn off lots of energy playing chase and fetch. It will be bath time at the end of the day, but don't worry, your pup will be too pooped to put up any resistance!
If you didn't bring lunch Piha Cafe has a great range of typical cafe food and serves both coffee and beer. Best of all it has a great dog-friendly outdoor area!
Location: Seaview Road, Piha
Snowy's Rating: ⭐⭐⭐⭐⭐

A great day trip for the weekend. It's a bit of a drive out but you will feel worlds away from the city. Don't forget a ball or frisbee as this is a fantastic spot to play fetch. It's a great spot for your dog to really have some fun and there's a good cafe to relax at the end of it all. Word of warning - this place can get a little crowded and busy in summer but still worth a visit!
✔️ Large off leash area
✔️ Excellent day trip away from Auckland
✔️ Great views and good scenery
✔️ Popular with other dog pawrents
✔️ Family friendly
5⁄5: Great spot!
While we do our upmost to ensure all information is correct. Council policy does change and you should always check the council website for the latest guidelines.
This is a multi-part series where we review Snowy's favourite dog walks in Auckland. View all the posts in the series here
Does your dog deserve a personal shopper? Take a look at Bark Bag, we send out dog treats tailored to your dog's preference profile.
GET STARTED